Description
ENDLESS WAYS TO LISTEN
Consider this speaker your backstage pass to every song on the planet. Access to the world's music has never been easier, just ask Alexa to play music from the most popular streaming services and you're ready to listen.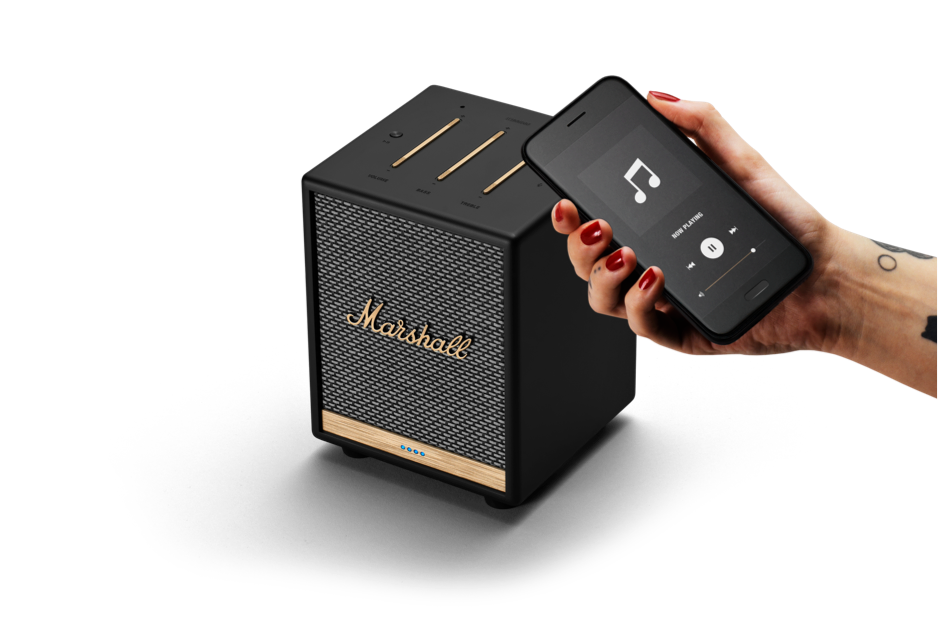 BUILD A MULTI-ROOM SYSTEM
Fill your home with immersive sound by building a multi-room system with Amazon Echo (available at the End of Summer) and other supported Alexa built-in speakers or Airplay 2 enabled speakers.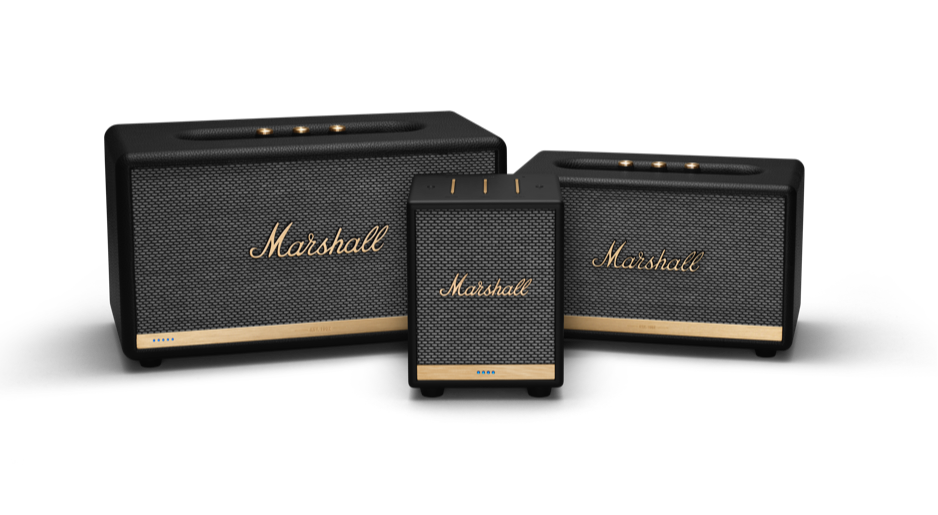 VOICE CONTROL
You can play music, get answers, manage everyday tasks and easily control smart devices around your home – just by using your voice.
ICONIC MARSHALL DESIGN
This speaker combines contemporary technology with iconic Marshall design to deliver hard-hitting sound while retaining a classic look.

CUSTOMISE YOUR SOUND
Fine-tune your music to meet your requirements with the rocker buttons on your speaker's top panel.

FAR-FIELD VOICE RECOGNITION
Marshall Voice speakers use a far-field microphone array for smart voice recognition and noise cancellation.
TECHNICAL SPECIFICATIONS
UXBRIDGE VOICE WITH AMAZON ALEXA BLACK
AUDIO SPECIFICATION
FREQUENCY RANGE
54-20,000 Hz
ADJUSTABLE BASS AND TREBLE CONTROLS
Fine-tune your music using the controls on your speaker
STEREO/MONO
Mono
MAXIMUM SOUND PRESSURE LEVEL
96 dB SPL @ 1 m
CABINET PRINCIPLE
Enclosed
POWER AMPLIFIERS
A 30 Watt Class D amplifier for the woofer and tweeter
CONTROLS AND CONNECTIVITY
WI-FI
Connects to your home Wi-Fi network with any WPA/WAP2, 802.11a/b/g/n/ac 2.4 GHz/ 5 GHz with diversity.
TOP PANEL CONTROLS
Volume button
Bass button
Treble button
Play/pause/skip button
Mute/unmute mic & push to talk button
Bluetooth pairing button (on rear side)
MICROPHONE SYSTEM
A dual microphone array with acoustic noise cancellation for far field voice interaction.
VOICE COMMAND
Amazon Alexa
WIRELESS CONNECTIVITY
Airplay 2
Spotify Connect
Bluetooth 4.2
MAINS INPUT VOLTAGE
100-240 V
NETWORK STANDBY POWER CONSUMPTION
<2 W
MAINS FREQUENCY
50/60 Hz
PHYSICAL UNIT
DIMENSIONS
128 x 168 x 123 mm
5.04 x 6.61 x 4.84 in
WEIGHT
1.39 kg
3.06 lb
COLORWAYS
BOX CONTENTS
Uxbridge Voice with Alexa
Mains lead
Quick start guide
Legal and safety information
APPS
MARSHALL VOICE APP
AMAZON ALEXA APP